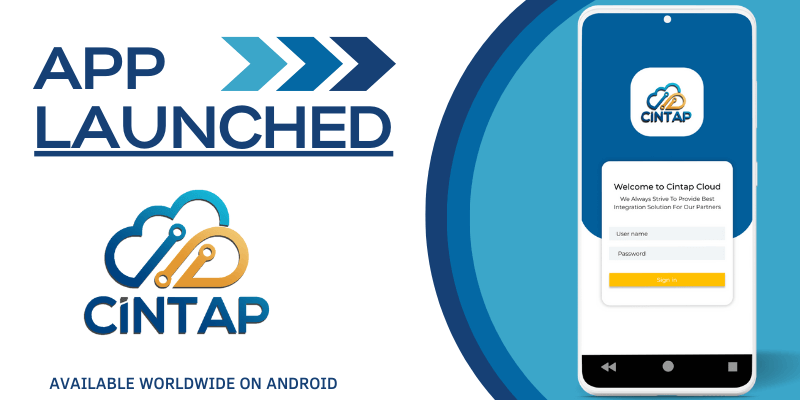 CINTAP Cloud: an integration platform
CINTAP is a software company specializing in integration platforms as a service (iPaaS) and Electronic Data Interchange (EDI).
While CINTAP has always strived to provide secure, quality, and convenient service to its customers, CINTAP Cloud has only ever been available on desktop.
Until now.
App Launched on Android
It is with great excitement that CINTAP announces its mobile app for Android, now available worldwide!
Existing customers can download the app today: Cintap Cloud – Apps on Google Play
The app has all of your favorite CINTAP Cloud features, made even more convenient for your business.
App Features
CINTAP's goal is to bring all of your available data into a single app, so you don't have to continually switch back and forth between several different systems or apps and individually run diagnostics on each one.
A key component of CINTAP Cloud's model is minimalistic simplicity, while still giving you all your relevant data in real-time. Here are a few ways the app improves on that concept:
B2B and A2A Applications
Applications Dashboard
Business Process Integration
B2B and A2A Integration
Companies of every size need Business-to-Business (B2B) and Application-to-Application (A2A) integration to streamline processes.
For example, B2B integration makes it possible for your company to perform Electronic Data Interchange (EDI) with other businesses, vendors, customers, etc. CINTAP Cloud creates a secure process for you to send and receive documents, data, and other information.
Since your company likely uses completely different programs and applications than those you are doing business with, A2A integration is also included on the main page of CINTAP Cloud.
CINTAP Cloud streamlines the communication process with other businesses and trading partners with less manual labor on your end.
To read more about the importance of and differences between B2B and A2A integration, read this article from the US Daily Review.
Applications Dashboard
One of the most useful features of CINTAP Cloud's app is the Applications Dashboard.
With the OTC (Order to Cash) dashboard, you can easily track all transactions as they happen in real-time as CINTAP Cloud manages all seven steps of Order to Cash for you.
Also, the graphs and charts are interactive and color-coded! For instance, errors are represented in red, while green represents processed transactions. The dashboard is as intuitive and user-friendly as possible, helping you see all your stored data's exact points and percentages.
Along with the comprehensive OTC dashboard, CINTAP Cloud also provides applications for Transportation, Third-Party Logistics, and Banking. These tools and applications save your company hours sorting through each business transaction and minimizes the risks of human error.
There are four different transaction types/integration scenarios on CINTAP Cloud, so you can review the entire process:
1. Order
2. Order Acknowledgement
3. Shipment confirmation
4. Invoicing
CINTAP Cloud's software also records how many transactions are processed in each month overall. If this isn't enough data for you, the dashboard shows you advanced and interactive reports on UI insights on your business community (which you can customize!).
All the information you need on OTC is available in one convenient place!
Business Process Integration
As always, CINTAP Cloud performs routine Administration and Troubleshooting to keep your operations running smoothly. These maintenance efforts are categorized as Business Process Integration (BPI).
Business Process Integration provides you with a clear vision for all connections, mappings, processes, and configurations. This means you can review all data as it is automatically transferred. As CINTAP Cloud tracks all transactions in real-time, you'll be able to view reports for any failures or issues.
In every aspect, CINTAP strives to streamline and simplify its integration platform. This application dashboard is no different! From this one page, your business and functional users can view all transactions. Inbound or outbound transactions that are being processed are totally visible from the business process standpoint.
This means quicker notification of any issues, and faster resolution for any discrepancies.
Download the app now!
With all the secure, high-quality features of the desktop version, the CINTAP Cloud app brings you more convenience and access to your integration data.
Considering all these pros (and no cons), head over to the Google PlayStore to download CINTAP Cloud for Android today!
Author – Carissa Getscher